After backing away last month, Simplot pushed for another mass coronavirus test; eight employees there have tested positive
Eight J.R. Simplot workers have tested positive for COVID-19, and company leaders are pushing for a large-scale test of their employees.
That effort comes shortly after the company stepped back from a state- and city-led plan to test the workers at its plant off Gateway Drive last month. Company leaders approached city officials about a second mass test last week.
The company's plant has been closed for about two weeks. Maintenance crews are scheduled to begin returning to work Friday morning before staff begin to return on Sunday. Operations are scheduled to resume on Monday, May 11.
"While we were preparing to get the plant back up and running, we wanted to give our employees an avenue to get tested," Josh Jordan, a Simplot communications manager, said of a hoped-for second test.
The plan, city staff said, was to conduct the new tests on Wednesday, May 6. That fell through amid a statewide shortage of testing supplies that canceled similar plans in Fargo and Williston early this week, according to Mayor Mike Brown and City Administrator Todd Feland.
The request is a seeming about-face for the Boise, Idaho-based ag giant: North Dakota and Grand Forks health officials planned to test Simplot employees and the "close contacts" of people who work at LM Wind Power on April 23 , but Simplot executives took a step back the night before. In an email titled "Simplot's Position on Testing," Kayce McEwan, the company's senior director of global human resources, told city and state staff that the tests that would have gone to their employees would be better used on the general public, especially "vulnerable" populations.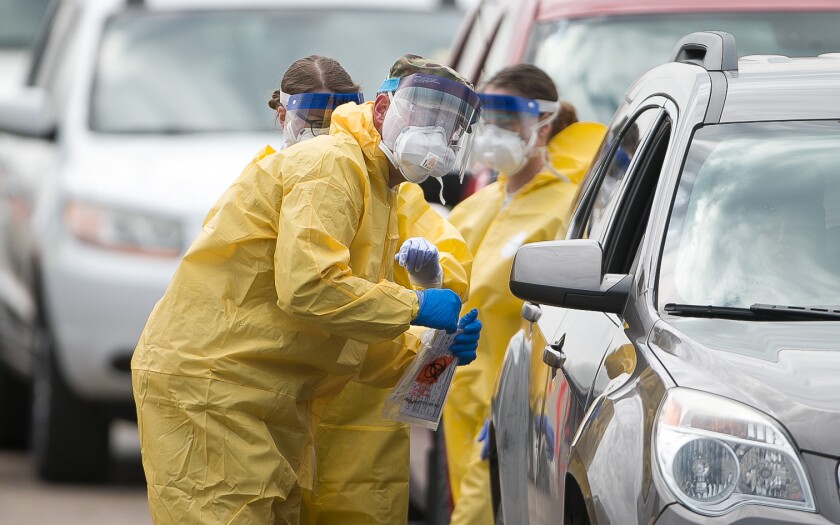 "The logistics to successfully participate in the previous testing would have been too difficult," Jordan told the Herald Thursday.
He later explained, on Friday, that the plant was already shutting down on Wednesday, April 22, which would have made it difficult to tell employees about the test. A statement Jordan sent to Grand Forks-area media the day of the test said the company only heard of the event the day before and was "not able to communicate to employees as we were in the process of closing our facility for cleaning and maintenance."
Simplot, Jordan said Friday, would have had more time to tell employees in advance of the second mass test.
McEwan's letter, which she sent to city and state leaders shortly after 8 p.m. the night before the tests, didn't mention logistical difficulties.
"While we appreciate this offer," she wrote, "we feel strongly that this testing should be made available to the general public, many of whom may not have access to the free testing available to our employees."
Jordan told the Herald on Friday that he didn't know why McEwan didn't mention the time crunch.
City and state staffers made no outward indication that the company had balked at the mass test until they opened it to the public at large about three hours after it began. Hundreds of people participated, including many Simplot employees who heard about it via Grand Forks-area media, including the Herald .
The day after the test, Simplot staff announced that an employee there had tested positive . It's unclear, however, if that case was detected at the mass test.
North Dakota National Guard members tested 714 people that day. Debbie Swanson, who heads the city health department, later said that 30 of the 62 people who tested positive for COVID-19 were LM Wind Power employees. She had no such figures for Simplot .
"I do not have any other information on the other groups because we didn't stratify it by that specific information," Swanson told reporters at an April 29 press conference.
Simplot shut down its plant for cleaning the week of the test and is scheduled to begin reopening this weekend. Jordan said it was a routine shutdown that was originally scheduled for Thursday, May 7, and moved up to slow the spread of the virus.
The company announced the shutdown on Tuesday, April 21 -- two days before the scheduled mass test -- but it was apparently in the works weeks beforehand. Don Tucker, the plant's water resource manager, told Harvey Gullicks, a senior project manager at engineering firm AE2S, that the plant would temporarily cease operations due to the pandemic, according to an email Gullicks sent to Tod Matelski, a supervisor at Grand Forks' wastewater treatment plant, on April 3.
State and city health officials said they wanted to test Simplot employees because "we were exploring the way COVID-19 spreads in a warehouse-type setting and to explore if there were signs of additional community spread in Grand Forks," according to Nicole Peske, the North Dakota Department of Health's chief communications officer. The "scope" of the April 23 test was determined jointly by staff at the state health department, the North Dakota National Guard, and Grand Forks Public Health.
Beyond the eight positive cases Jordan claimed on Thursday, a pair of contractors at Simplot tested positive for COVID-19 last month.
On April 22, Scott Lund, a quality assurance manager at Simplot, told Feland, the city administrator, that the contractors worked for AgWorld, a company that grades Simplot's raw potatoes. The contractors, he claimed, work in a separate building and do not enter the company's production facility.